Joost Van Bellen Gaat Door: Queer Amsterdam Edition
Christeene (New York, Live) / Louisahhh (Paris, dj-set) / Lewis G. Burton (London, dj-set) / Joost van Belllen (Amsterdam, dj-et) / Juliana X (Rotterdam, dj-set) / Anto López Espinoza (Madrid, performance) / Simomo Bouj (Rotterdam, performance)
OZ
Please note: this event has already taken place
Price:

€ 20,15 presale
€ 22,50 Door
Free for year members
Minimum age 18+
On Sunday, July 23rd, during the very first opening weekend of Queer Pride Amsterdam, we're celebrating queerness in all it's forms with a clubnight curated by Joost van Bellen. He'll go all out in a special back-to-back with Juliana X of queer club Zuperstition from Rotterdam. Superstar and dirty drag terrorist Christeene is over from New York City for an exclusive performance. Industrial techno & punk raver Louisahhh arrives from Paris for a banging dj-set. Lewis G. Burton, co-founder of London's infamous Inferno, demolishes the place to conclude this bound to be legendary night. And that's not all: two renowned nocturnal animals and artists are bringing their wonderful sparkles to the stage. Spain's Anto López Espinosa and Flemish-Moroccan Simomo Bouj both put on high-level art performances. We recommend putting a big cross through your Monday plans.

NOTE: Joost selected the iconic film 'Female Troube (1974)' to be screened at Melkweg Cinema before the club night starts. Visitors of the film can stay for the club night for free.
This event is part of Pride & Prejudice. Discover more here!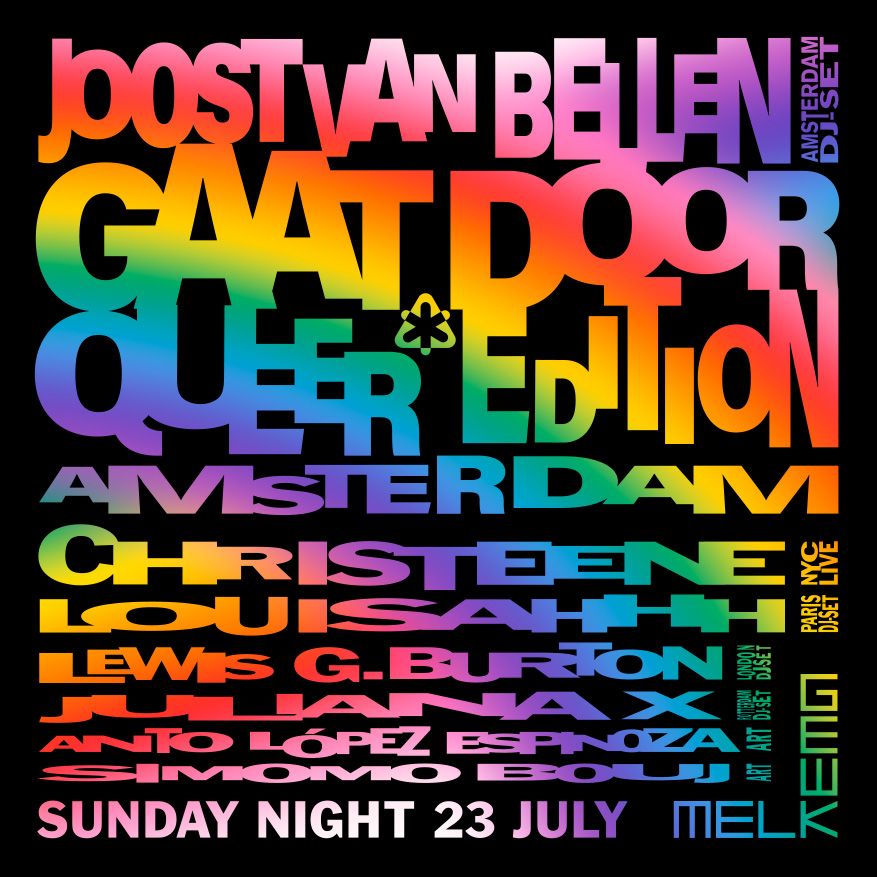 The 'JVB Gaat Door Queer Edition' is part of the official Queer Amsterdam program that is taking place for the first time this year. From July 22 to July 28 prior to Pride Amsterdam, the city will be all about queerness: in all its shapes and sizes, in all its colors and forms. The voices from within the queer community will be leading at all times. Values such as social justice, anti-discrimination and (inter)national solidarity will be a common thread throughout the programming.