Concert
Stas Koroliov / Kurs Valüt / Zbaraski
Ukrajina
OZ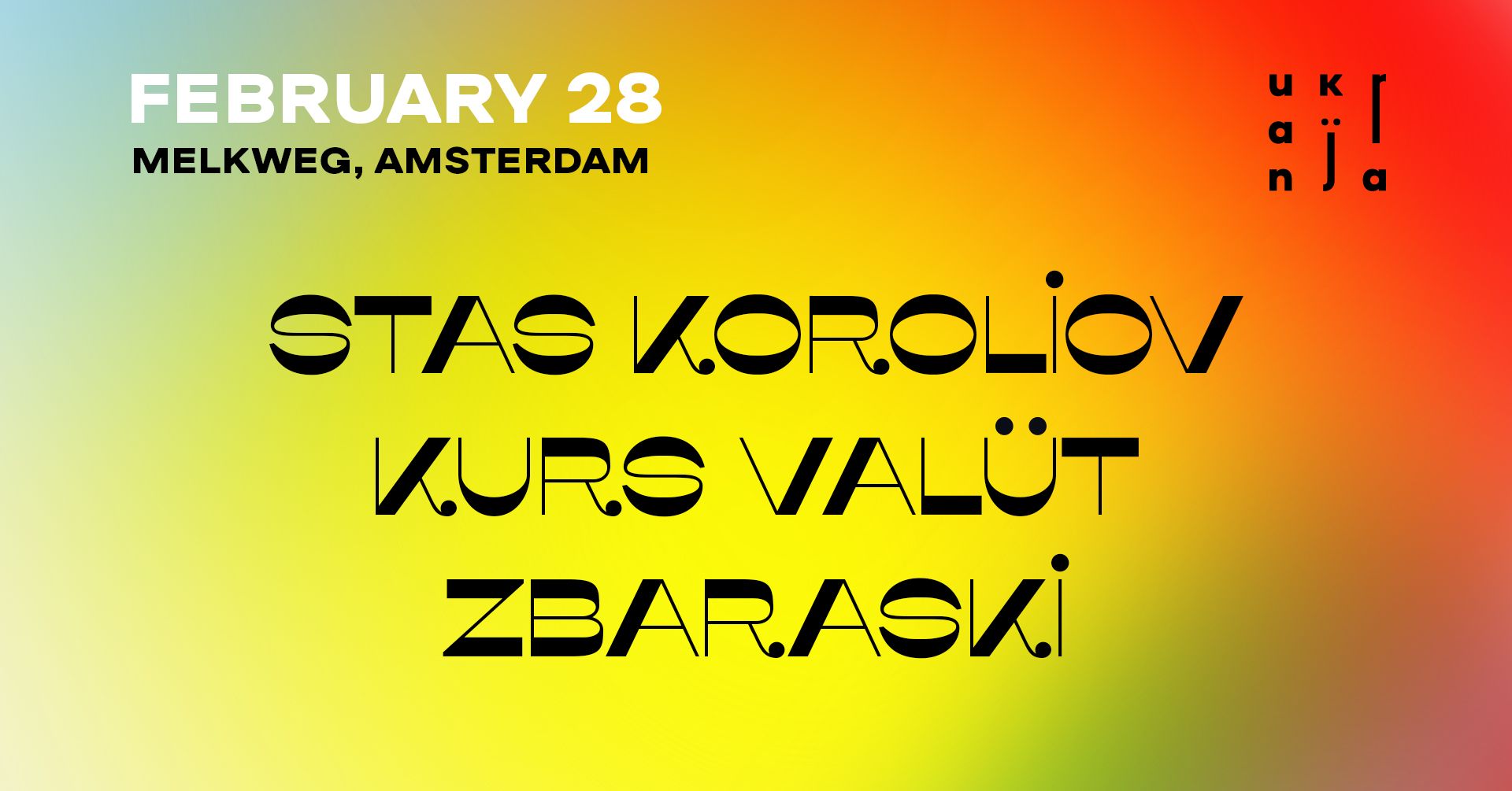 Please note: this event has already taken place
Price:

€ 25,30 Regulier
Free for year members
Excl. € 4 (month)/€ 25 (year) required membership.
The timetable will be listed here as soon as it is complete
Ukrajina returns to Melkweg. In collaboration with View on the East they present: Stas Koroliov, Zbaraski and Kurs Valüt.
STAS KOROLIOV
Stas Koroliov is the multi instrumentalist frontman of a Kyiv based audio-visual jazz rockband. Born in Avdiivka (Donetsk), he has built up an impressive live reputation in his home country. He first became known as part of the popular duo YUKO, and started a solo career after they broke up in 2021, with the release of the album 'O_x,' that was voted record of the year in Ukraine. Check out the album cover, it is quite epic :)). In december 2022 he toured through wartorn Ukraine, where he played in cities such as Kherson, Zaporizja, and Kharkiv, and on February 28th he will be playing in Amsterdam for the first time.
ZBARASKI
Zbaraski is a musician and sound producer from Lviv, Ukraine. His debut EP 'Bo Ya Tak Khochu' ('Because I Want It Like That') was released in 2019, and established Zbaraski's name as a promising new artist in the Ukrainain independent scene. His sound can be described as 'bedroompop' combined with r&b, soul and hiphop, all sung in Ukrainian, in a silky falsetto style. He just released a new single, 'Dyvni dyva', that will be followed by a new album in 2023.
KURS VALÜT
Kurs Valüt is an electronic duo from Dnipro, that was founded in 2017 to make minimal wave in Ukraine great again. Their music is created first and foremost for live performances, and all songs are written in Ukrainian. All lyrical subjects and dark electronics carefully turn the feeling of existential crisis into unstoppable energy on the dancefloor. Kurs Valüt has two LPs out ('Veselo' (2018) and 'Kurs Valüt' (2021)) and recently signed with German label No EMB Blanc.
Supported by Liveurope: the first pan-European initiative supporting concert venues in their efforts to promote emerging European music.