That's What She* Said
International Women's Day 2023 - Music, Film, Expo in honour of Womxns* Rights
Cinema Expo OZ Upstairs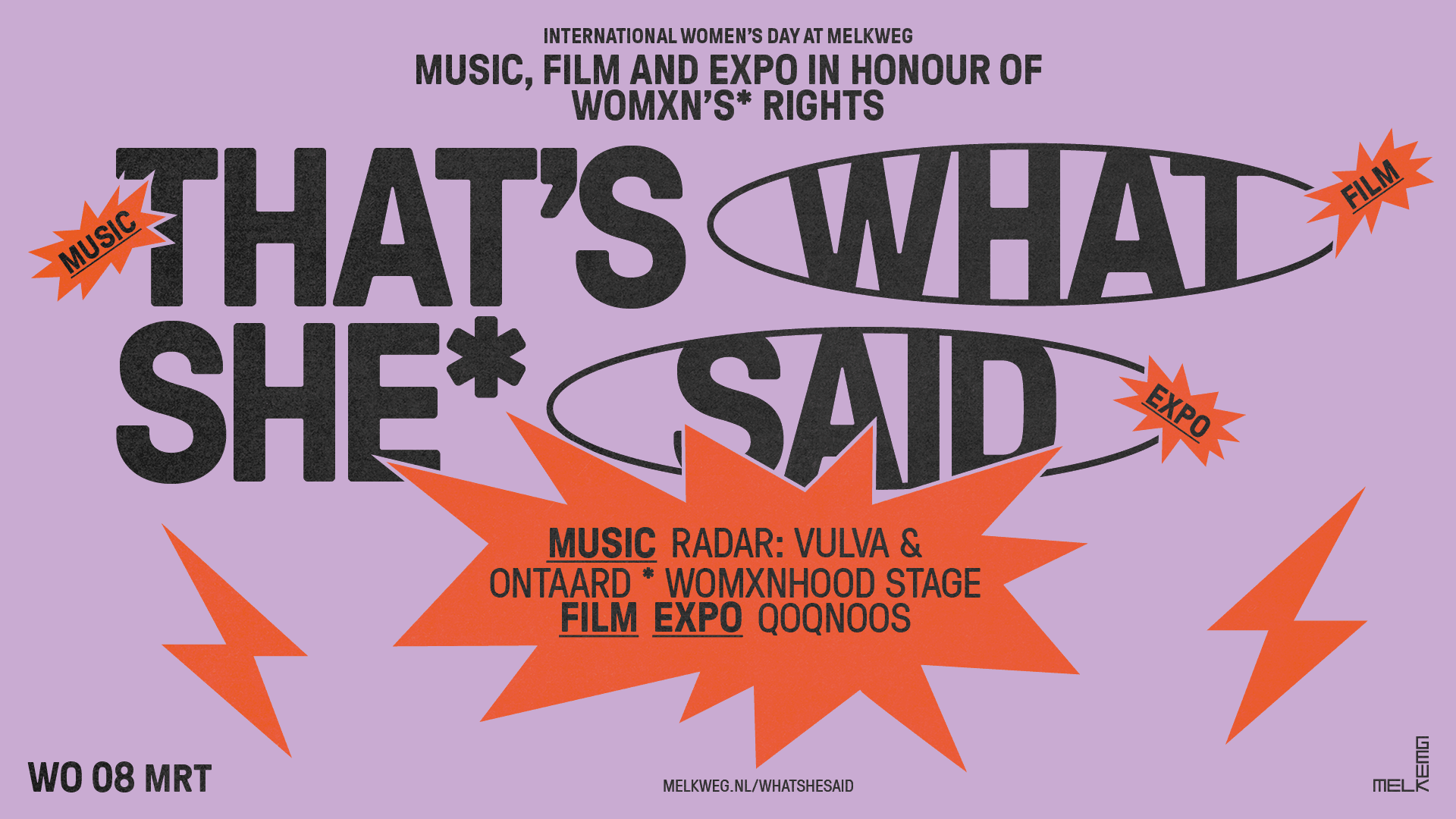 Please note: this event has already taken place
Price:

€ 11,50 Regulier
€ 0 Cineville
Free for year members
Free for We Are Public
EXPO 17:00 doors 18:00 Officiële opening door Touria Meliani enTina Farifteh 18:15 Interviews door Mina Etemad, Mojdeh Feili spoken word, Roshanak Morrowatian performance 19:20 discourse(DJ) 21:15  Roshanak Morrowatian performance Cinema 18:30 doors 19:00 The Business of Birth Control (2021) 21:15 How Dare You Have Such a Rubbish Wish (2022) OZ 20:30 doors 21:00 Alireza Velayati Santoor 21:15 Womxnhood Talk 21:40 Ehsan & Khashayar 22:00 Shermin 22:05 Eyelar Upstairs 19:00 doors 19:30 Ontaard 20:45 Vulva
'That What She* Said' is an evening filled with music, film and art with a message. A multidisciplinary program celebrating International Women's Day, which draws attention to gender equality and equal rights in general.
The diverse program will be kicked off with a talk and exhibition in our EXPO. In the group exhibition 'Qoqnoos', attention is drawn to female resistance in response to the current protest movements led by women in Iran.
Musically we will join forces with media platform WOMXNHOOD. They will take over our OZ this evening with a music program curated by them. At the same time, all misogyny and sexism are being blasted out of this world in the Upstairs, with a heavy edition of RADAR, with sludge/garage duo Vulva and Utrecht post-metal band Ontaard. You can also take a seat in the Cinema during the evening for our film program, where various documentaries can be seen. All movies have English subtitles.
*At Melkweg we do our best to make everyone feel welcome and safe. Melkweg sees being a woman as a concept for everyone who identifies as a woman (regardless of the gender with which one was born). In addition, we are aware of the existence of more gender identities than just male or female and we strive to use inclusive language within our organization and towards our visitors.