Accessibility | Max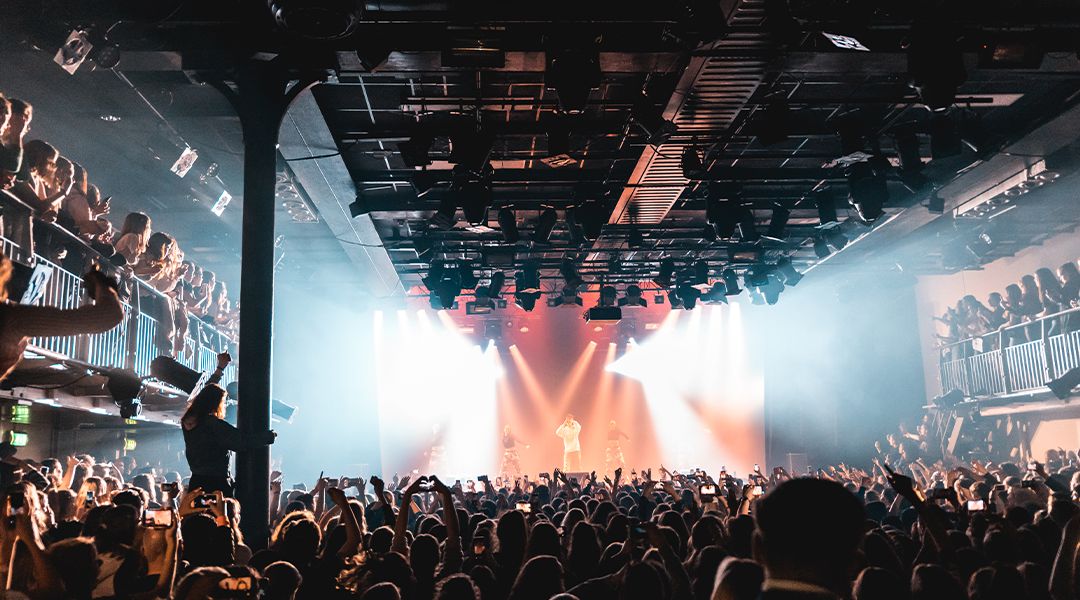 The Max is our largest hall and is located on the ground level, to the left of our main entrance. The hall has a maximum capacity of 1500 visitors. There are no standard seats in this hall, unless explicitly stated in the programme description of the event. The venue hall includes steps, changes in levels and a balcony, which can restrict access for some visitors. This does provide different opportunities to get good views of the stage.
A designated wheelchair space is located at the front left of the hall. Due to the crowds and changes in floor levels, this space can only be accessed using one of the emergency exits. Please ask our staff for assistance to access this space. If you plan to attend an event and wish to make use of our designated wheelchair space, please contact us in advance at access@melkweg.nl. You do not need to purchase a wheelchair user ticket; regular tickets will provide you access to the Melkweg.
On either side of the hall and the balcony, there are limited spots where you can sit or lean. The balcony can be accessed by stairs, which may represent a threshold for some visitors. If you need a seat due to a physical disability, we are happy to arrange a chair for you. Please note: At busy or sold-out events, this may not be possible. We therefore ask you to contact us in advance of your visit to the Melkweg at access@melkweg.nl
There are two bars in the hall, both located on the ground level. Find lockers, a service desk and a (wheelchair) accessible toilet in the main entrance hall.
Click here to return to The Melkweg accessibility overview page.